06 Sep

Blind safety

I only ever make or fit Roman blinds with a breakaway device fitted to the header rail and breakaway devices fitted to the backs of the blinds themselves, in accordance with the current child safety requirements. For those blinds I supply which don't have this sort of header rail, I ensure that the chain is fitted at the correct height on the wall, i.e. 1.5 metres from the ground, and that the chain is tethered to the wall. This is to ensure that if a child does become entangled in the chain it will literally break free from the header rail before any damage can be done, or the chain is attached too closely to the wall for this to happen at all.
I'm often asked about these child safety requirements for internal blinds….isn't it all a tremendous fuss over nothing? And if people don't have children visiting their home does it really matter?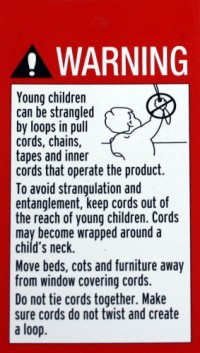 On average four children a year die by becoming caught in blind cords or chains and being strangled….take a look at this video and see what you think.
I'll only ever make and supply blinds that comply with the current guidelines. If you'd like to know more, please do get in touch.